About us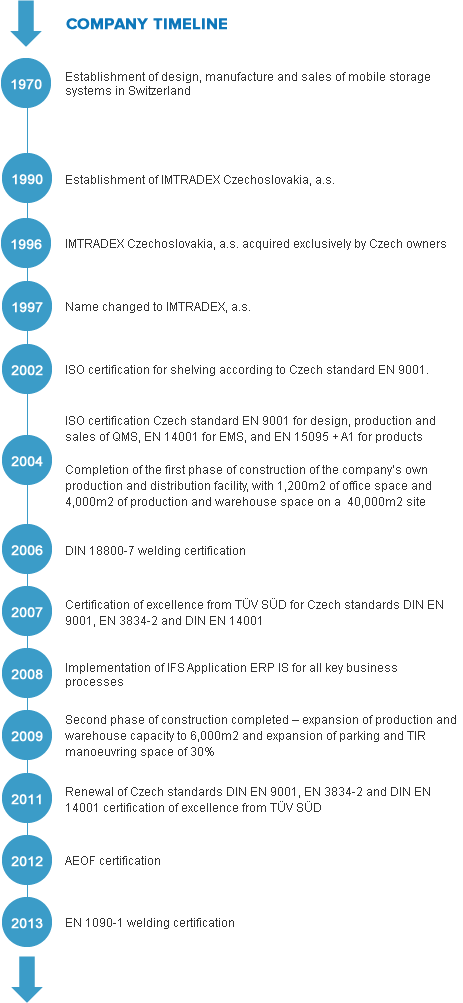 IMTRADEX, a.s. Nivnice, Czech Republic, was founded in 1990, the first designer and manufacturer of mobile storage systems in the Czech Republic, continuing a tradition of 20 years of Swiss manufacturing.
The production program of mobile rack systems is complemented by our very sought-after range of cantilever rack systems, multi-level platform systems and other specific made-to-order systems.
Production is conducted in our own, modern distribution and production facilities in Nivnice in the Zlín Region.
Where suitable, we sub-contract to leading domestic and foreign producers and distributors to achieve competitive pricing and ensure turn-key deliveries.
The company achieves the highest European standards at competitive prices through our systematic and highly professional approach to meeting the specific requirements of customers.
The company supplies pallet, cantilever, shelf rack systems in stationary and mobile (sliding), drive-in and drive-through configurations, continuous racks, self-supporting storage silos and steel platforms.
The majority of these rack systems are characterised by inter-changeable structural components that are simply connected to make a complete unit with a minimal number of screws. Assembly is therefore very simple and additional levels can easily be added later.
The company also responds to customers' demands for modernisation of storage systems, namely for the conversion of stationary systems to mobile systems in specific environments.
IMTRADEX, a.s. has specialised in mobile rack systems for almost a quarter of a century. Our design professionals provide world-class solutions in the field.
Since its establishment, the company has continuously improved its internal processes in all areas to provide complete customer satisfaction.